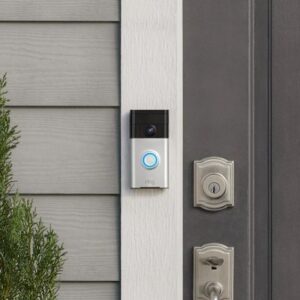 Installing a ring doorbell and wireless cameras might be an excellent method to improve your home's security and safety. In today's culture, it's more necessary than ever to secure your home and loved ones from possible threats, and these technologies add an extra layer of security. The listed below are five reasons why you should install a ring doorbell and wireless cameras in your home.
Avoiding burglaries is one of the most significant advantages of a ring doorbell with wireless cameras, since it allows you to observe who is at your door or on your property even when you are not present. This gives the idea that someone is constantly home, which deters potential thieves. You can also monitor deliveries and packages to ensure they are not taken from your front porch.
Remotely monitor your house: With the option to access your cameras remotely via a phone app, you can effortlessly check in on your home from anywhere, at any time. This provides you with peace of mind because your house is being watched even when you are not present. This is especially useful whether you are on vacation or a work trip.
Keep an eye on your children and pets: Ring doorbells and wireless cameras may be used to monitor the behavior of your pets or children while you are away, providing you with additional peace of mind. This is especially useful if you have young children or pets that you are concerned about while you are away.
Improve guest experience: You can see who is at the door before answering it, and you can speak with them even if you are not at home. This might enhance your guests' experience and guarantee that they receive the attention they require.
To recap, installing wireless cameras and a ring doorbell might be a useful approach to improve the security and safety of your home. You can keep an eye on your house even when you're not home thanks to remote access and notifications. The best firm to install cameras in Nashville, Tennessee is Tic Tac Tac. You may be confident that your home is secure and that you are at ease thanks to their qualified professionals. Buying these tools is an investment in your family's and home's safety and security.